Keep your garage warm all winter long
Super High EFFICIENCY Unit Heater
Reznor HVAC was founded in 1888 and has been manufacturing high quality products for 130 years. Reznor was one of the first high efficient unit heaters on the market. Since 1983, their secondary aluminium heat exchanger technology has proven worry-free operation. Four Seasons Furnace Services has been installing Reznor unit heaters for over 20 years with many satisfied homeowners. We highly recommend this unit heater for your garage heating needs.
As a local Reznor dealer, we can provide professional installation for their unit heaters. Contact us today for a free in-home estimate.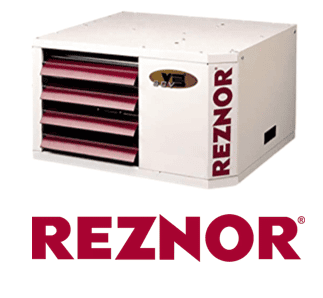 The UDX gas-fired unit heater is great for space saving applications. These units are power vented to eliminate heat losses up the flue pipe. Available in 14 sizes ranging from 30,000 to 400,000 BTU's. Featuring a two-tone black and white power coated, scratch resistant paint scheme. Rounded corners and edges with no visible screws or fasteners.
TCORE2® titanium stabilized aluminized steel heat exchanger

Vibration/noise isolated fan and venter motors for quite operation

Axial propellor fan for air circulation

Compact – 40% smaller than previous generations

Versatile installation – horizontal or vertical

Up to 93% gas fuel efficiency
10 heat exchanger warranty

5 year part warranty
Considering a Reznor Unit Heater for your home?
We provide professional installation for Reznor Unit Heaters. Contact us today for a free in-home estimate.