Remove Allergens In Your Home
Whole-Home Electronic Air Cleaner
Trane Clean Effects® Whole Home Air Cleaner utilizes patented technology to clean the air in your home with its advanced filtration system. This system can remove up to 99.98% of airborne particles; this level of filtration makes it up to 100x more effective and a standard 1" filter. Trane clean effects are recognized by the Asthma and Allergy Association of America for its scientifically proven reduction in house hold air pollutants. Trane is a proven leader in HVAC equipment with over 100 years in the industry. Installing Trane for over 30 years, Four Seasons is an industry expert on these products.
As a local Trane dealer, we can provide you with professional installation of their products. Contact us for a free in-home estimate.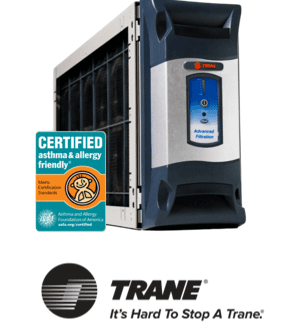 Trane Clean Effects is a patented whole-house air filtration system that removes up to an incredible 99.98% of allergens from filtered air. Up to 100 times more effective than a standard 1" filter, the unit can reduce the need to dust by up to 50%. Effective as well as quiet the filtration can be welcome relief to anyone with respiratory difficulties.
Efficiency: 1200 CADR rating

Traps particles as small as 0.1 micron in size.

Industry leading 1200 CADR rating

Reusable collection cells

Minimal pressure drop

Meets FDA standards of below 50 ppb for ozone emission

Easy to clean filters

Quiet operation

Power Door – provides easy access for cleaning
10 years limited warranty when registered by authorized dealer
Considering a Trane Clean Effects for your home?
We provide professional installation for Trane Clean Effects filters. Contact us today for a free in-home estimate.