Reduce Indoor Air POLLUTANTS
Air Filters That Check All The Boxes
Honeywell provides disposable and permanent air filters to improve air quality in your home and prolong your furnaces lifespan. A pioneer in the HVAC industry, Honeywell was founded in 1885. Inventor Albert Butz patented the furnace regulator, followed by a device called the "damper flapper". This invention was a predecessor to the modern thermostat. Needless to say, they are an expert in the industry. Their line of air filters gives you extra protection on your furnace while providing a reduction of indoor air pollutants. Four Seasons has been installing Honeywell products for the last few decades with a great performance record.
As a local Honeywell dealer, we can provide you with a free in-home consultation on their products and installation. Contact us today for a free estimate.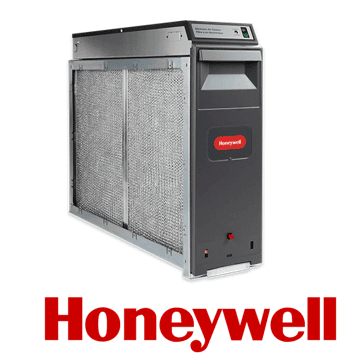 Enhance the filtration for your furnace with a 5" disposable filter system. This media air cleaner captures up to 96% airborne particles passing through your HVAC system. This will help to protect your furnace and improve your air quality.
Deep-pleated media filter for a larger surface area to capture more airborne particles
F-100 filter MERV 11 rating

F-200 filter MERV 12 rating

Filter lasts four times longer than a standard 1" furnace filter

Simple maintenance, open door to replace filter

Clean and sophisticated look with casing and door
This whole house electronic air cleaner traps and filters up to 99% of airborne particles passing through the system to ensure cleaner air is distributed to all rooms in your home. It works by placing a charge on airborne particles and then collecting them like a magnet.
MERV 12-16 rating

Captures particles as small as 0.3 microns

Up to 30 times more efficient at capturing airborne particles compared to a standard 1-inch filter

Particles enter three stage filtration system

No replacement filters needed

Requires only periodic washing of air cleaner cells to maintain
5 years limited parts, 10 year coil guarantee
Considering one of these Honeywell Air Cleaners for your home?
We provide professional installation for Honeywell Air Cleaners. Contact us today for a free in-home estimate.