Why should you complete duct cleaning services for your commercial building?
---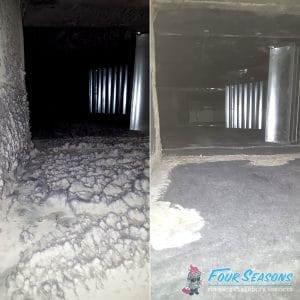 Commercial and industrial buildings require regular duct cleaning services to prevent serious indoor air quality issues unique to commercial buildings. "Sick Building Syndrome" and "Building Related Illness" are conditions that create adverse health effects to inhabitants such as headaches, sinus congestion, and shortness of breath. Prolonged exposure to these conditions can increase absenteeism, reduce productivity, and increase long term health risks to people in the building.
Completing regular cleaning of your buildings heating and ventilation system will also greatly reduce your overall operating costs for heating and cooling. Clean ventilations systems and HVAC equipment put less stress on components over all, allowing them to operate at their peak efficiency. Regular cleaning and maintenance will ensure you keep those maintenance expenses low and stable.
Commercial HVAC equipment is adversely affected by dust and contaminant buildup on mechanical components – the last thing renters or builders want to do is have an unexpected HVAC emergency on their hands during business hours. Preventative maintenance is key.
Why should we be your choice for commercial duct cleaning services?
Professionals you can trust
Four Seasons has been completing custom, professional commercial cleaning services for over 30 years in the Edmonton area. Our company is a NADCA certified contractor qualified to complete HVAC cleaning of residential and commercial air duct systems.  Some of our regular clients include St. Albert Public Schools, Wetaskiwin Regional Public Schools, Maple Leaf Foods, and Midwest Property Management. Our friendly office staff will arrange for one of our Gasfitter (A) Estimators to complete a site inspection of your building and give you a custom estimate for the cleaning services you require. Every commercial space is different, which is why we provide free in-building estimates so you know exactly what labour is required, what equipment is required, and how long the cleaning will take to complete.
All of our cleaning crews are insured, bonded, and adhere to strict PPE, OH&S, and Four Seasons safety policies. Hazard Assessments are completed at all commercial cleaning sites to ensure a safe cleaning procedure. Our cleaning servicemen are certified through the nationally recognized NAIT Gasfitter (A) program, HVAC training at its highest level for a professional and mechanically sound cleaning.
Complete and proven cleaning methods
We are able to clean any configuration of commercial HVAC equipment once inspected by one of our estimators. We specialize in dryer vent cleaning for large commercial dryers which are more prone to clogged lines with their constant usage. We also specialize in working with Property Management executives – we make it easy to have all of your properties managed and cleaned efficiently.
Our high Power vac trucks are fully equipped to deal with the larger ventilation systems in commercial spaces. With 7500 cubic feet of suction per minute and 200-250 psi of compressed air for point of register cleaning, we have the right equipment to leave your systems clean and sanitized for a breath of fresh air. For large or complicated sites, our estimators will also serve as site supervisors during the cleaning to ensure your company logistical needs are met and the cleaning is completed in an efficient manner.

Resources:
Contact Us for a quote, to book an appointment, or to ask a question