Why should you complete our 2-in-1 furnace and duct cleaning service?
---
Preventative Maintenance
Regular furnace and duct cleaning is the best preventative maintenance you can complete to ensure you get the longest life out of your HVAC equipment with fewer breakdowns. While high efficiency furnaces of today are technologically advanced, they are also far more sensitive to dust and air borne contaminants than conventional furnaces. Just like a car, regular furnace and duct cleaning will save you energy dollars with fewer unexpected repairs and fuel efficient performance from a clean system.
Furnace manufacturers recommend regular cleaning of your ductwork along with a yearly service inspection of your heating system by a qualified professional to ensure efficient and safe operation as well as to maintain any warranty coverage.
It's the air you breathe
Whenever your furnace or A/C is running, airborne contaminants such as dust, drywall dust from renovations, dirt, pollen, and animal dander are pulled from your home into your duct system. Over time these contaminants buildup inside your duct work and on the mechanical components of your furnace and A/C coil. Each time your system comes on, contaminants are spewed back out and circulated through your home, into the air you breathe. 
Why should we be your choice for regular furnace and duct cleaning?
---
2-in-1 Cleaning & Servicing with Our 3 Step Furnace & Duct Cleaning Process
Clean all attached duct work
In over 30 years of providing furnace and duct cleaning services, we provide the best technology and professional methods available with the patented Viper Clean Sweep System®. Created by a duct cleaner in response to the always different circumstances of each duct cleaning, the Viper system overcomes many difficulties presented by typical sweeping equipment. We can clean any size or shape of duct work with duct work shining with one pass of the Viper Clean Sweep System® through a small, re-usable one inch access hole.
All of our furnace and duct cleanings are completed with one of our state of the art high powered Powervac Trucks. Our trucks are mounted with high power compressors which provide 7500 cubic feet of suction per minute and 200-250 psi of compressed air for air scrubbing.
Clean all components of furnace
A proper furnace cleaning requires full dis-assembly as there are many internal components that must be individually cleaned and serviced. Our servicemen are qualified to fully disassemble and reassemble the furnace to clean it as they are trained and certified through the nationally recognized Gasfitter (A) Journeymen program through NAIT.
We don't just clean your ducts! Avoiding the mechanical components of the furnace is potentially hazardous to the unit and defeats the cleaning of the return air duct system. Your furnace and ducts work together in a closed system. If the furnace is not cleaned, the second your furnace is cycled all the dust and debris inside is redistributed into your cleaned air ducts. In fact, the furnace blower that moves the air often contains the most dust build-up.
Complete service of the furnace
   Your Natural Gas provider recommends that your natural gas appliances should be serviced yearly by a qualified heating professional. We provide this mechanical service 2-in-1 with your cleaning as we are certified to do so.
There are no visual inspections here! Included in every cleaning is a full mechanical service inspection of your furnace as we are a certified mechanical contractor. Our Gasfitter (A) Journeymen apprentices will provide you with a written service report at the end of the appointment letting you know how your furnace is operating and if there are any additional services required.
Every furnace is cycled to ensure proper operation following the service.
What if my furnace needs repairs?
Our Training and Mechanical Certification
---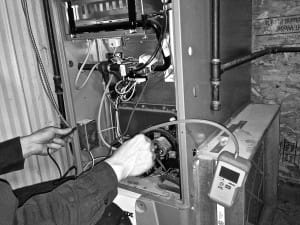 Duct Cleaning is not a regulated mechanical trade, even though your furnace is a natural gas appliance which requires mechanical trade expertise to install, repair, and maintain it. Gasfitting on the other hand is a Canadian and Alberta Mechanical Trade, recently upgraded to Red Seal trade status in 2012. All of our Powervac technicians are apprentices enrolled in the Gasfitter (A) Journeyman trades program at NAIT. This means that our servicemen are trained by Journeyman Gasfitters to provide a full mechanical tune-up and servicing when your furnace is cleaned.
Gasfitting is a journeyman trade, which not only certifies our servicemen in air duct handling service and maintenance, but also complete service and diagnostic skills to provide the full service your furnace requires. Our servicemen are mechanically liable for each and every furnace they service, backed by our certified Journyeman Gasfitters on staff. Unlike cleaning companies, our servicemen can provide the full servicing your furnace needs, saving you time and money as you do not need to additionally hire a mechanical contractor to service the furnace.
Contact Us for a quote, to book an appointment, or to ask a question