TANKLESS OPERATION
---
Tankless water heaters utilize on demand heating for your hot water needs. Without a holding tank, the unit heats water when you call for it with a specialized internal heat exchanger. When you are not using hot water, the unit remains on standby. These units provide more flexible installation options as they are much smaller than a conventional tank. As an Energy Star rated appliances, tankless water heating is a high end option to upgrade your water heating and is best utilized in small spaces.
All on demand water heaters require a free in-home estimate. Ready for an upgrade? Contact us today!
Navien
---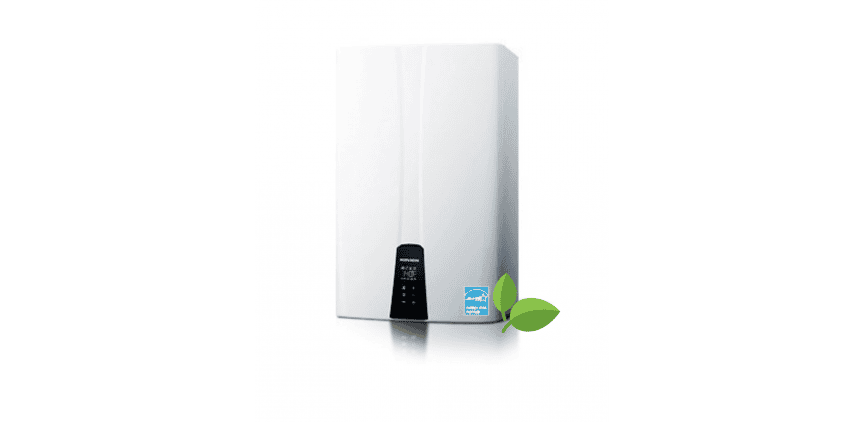 Navien NPE-A Premium Condensing Tankless Water Heater
Efficiency: 0.97 EF
Description: Space saving design coupled with energy savings. Naviens NPE-Advanced condensing tankless water heater is the most energy efficient heater in the industry. Built in condensing technology maximizes your energy savings and reduces greenhouse gases by capturing additional heat from flue gases. Offered with a dual stainless steel heat exchanger to extend the life of the unit and resist corrosion.
Warranty: 5 years limited parts, 15 years on heat exchanger. 1 year labour warranty and installation guarantee.
Specifications:
97 EF – Energy Star Rated
Ultra Condensing Efficiency
Two Stainless Steel Heat Exchangers
Low NOx Emissions (≤ 20ppm)
Utilizes Existing 1/2″ Gas Line
Less Water Pressure Drop
Intelligent Preheating Technology
Comofortflow Technology – recirculation system to save water with reduced heating times.
Remote control option
Contact Us for a quote, to book an appointment, or to ask a question