Power direct vent operation
---
Power direct vent hot water tanks also feature a fan to push combustion gases out the exhaust like the power vent tanks. However, the power direct vent tank is also a sealed combustion water heater. What that means is that it draws combustion or fresh air from the outside of your home directly into the combustion chamber for heating. This means that the air in the home is never used for hot water heating, only for your furnace. This design of hot water tank is also ENERGY STAR® rated and is resistant to leakage of combustion gases.
Bradford White
---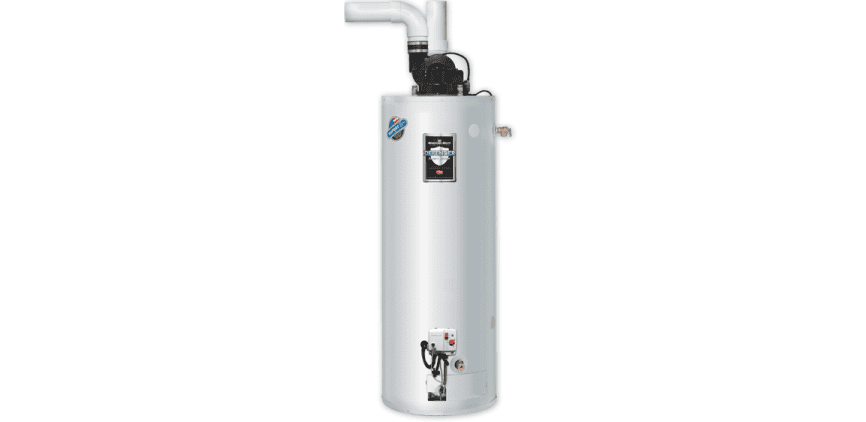 Bradford White Residential Power Vent
Efficiency: 0.70 EF, ENERGY STAR® RATED
Description: A high efficiency solution providing Energy star performance. Power Direct Vent models are the solution to installations that lack sufficient air for combustion and require flexibility. All models can vent vertically or horizontally and are also approved for direct-vent, closed and combustion applications.
Warranty: 6 years on tank itself against leaks. 6 years limited warranty on internal function parts. 1 year labour warranty and installation guarantee.
Specifications:
70 EF
40 and 50 Gallon capacity available
Titanium Stabilized Stainless Steel Propane Burner
The Hydrojet®Total Performance System – Reduce sediment build-up
Vitraglas®Tank Protection – Exclusive enamel lining
The Bradford White ICON SystemTM  – Gas control technology that offers numerous energy and time-saving benefits
Defender Safety System® with Advanced ScreenLok® Technology Flame Arrestor Design
Contact Us for a quote, to book an appointment, or to ask a question