Enjoy a healthy home environment
---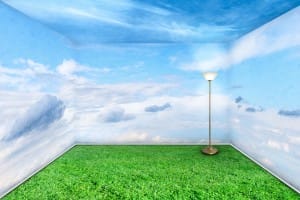 An electronic air cleaner uses electrodes to create an ionized electrical field that "magnetizes" pollutant particles and collects them on the filter material. An electronic unit can eliminate virtually all pollen, mold spores, and air borne viruses. Electronic air cleaners require professional estimation and installation to properly size the unit and ensure it works in conjunction with an existing or newly installed furnace.
A HEPA filter is a High Efficiency Particulate Air Filter. This mechanical filter system forces air through fine mesh screens to trap harmful particulates such as: household dust, mold spores, fungi, bacteria, pet dander, viruses and more.
Honeywell
---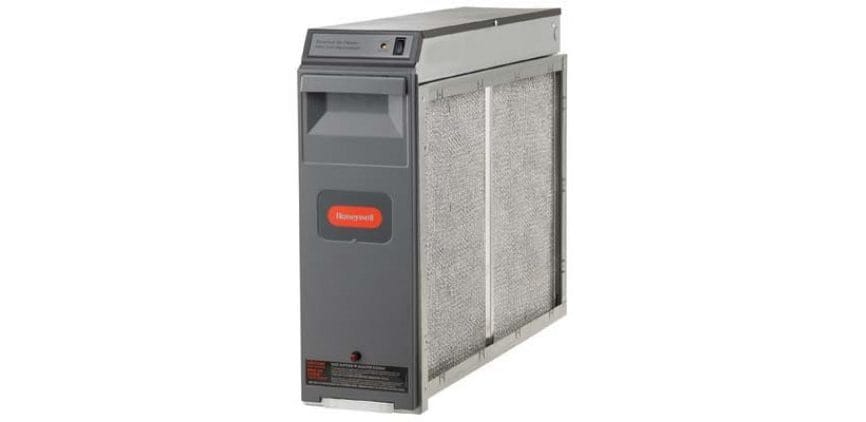 Honeywell F-300 Electronic Air Cleaner
Efficiency: MERV 12-16 Rating
Description: This whole house electronic air cleaner traps and filters up to 99% of airborne particles passing through the system to ensure cleaner air is distributed to all rooms in your home. It works by placing a charge on airborne particles and then collecting them like a magnet.
Warranty: 5 years limited parts, 10 year coil guarantee
Specifications:
MERV 12-16 rating
Captures particles as small as 0.3 microns
Up to 30 times more efficient at capturing airborne particles compared to a standard 1-inch filter
Particles enter three stage filtration system
No replacement filters needed
Requires only periodic washing of air cleaner cells to maintain
Trane
---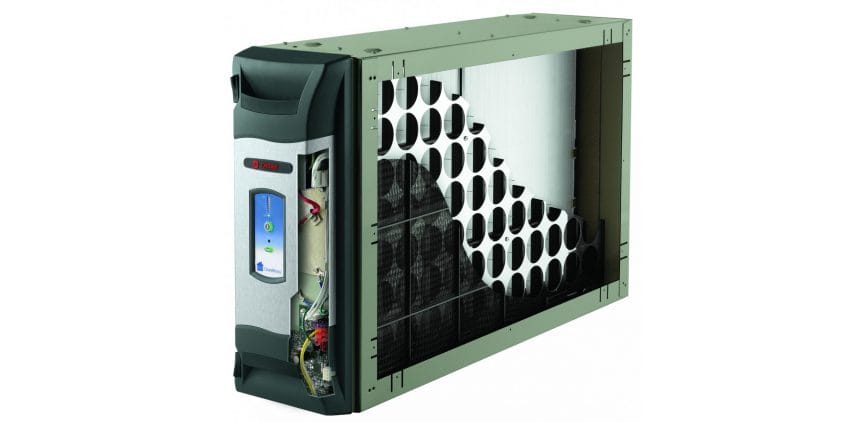 Trane Clean Effects Air Cleaner
Efficiency: 1200 CADR rating
Description: Trane Clean Effects is a patented whole-house air filtration system that removes up to an incredible 99.98% of allergens from filtered air. Up to 100 times more effective than a standard 1" filter, the unit can reduce the need to dust by up to 50%. Effective as well as quiet the filtration can be welcome relief to anyone with respiratory difficulties.
Warranty: 10 years limited warranty when registered by authorized dealer. Optional 10 years parts and labour warranty available when installed with a Trane furnace • .
Specifications:
Traps particles as small as 0.1 micron in size.
Industry leading 1200 CADR rating
Reusable collection cells
Minimal pressure drop
Meets FDA standards of below 50 ppb for ozone emission
Easy to clean filters
Quiet operation
Power Door – provides easy access for cleaning
Cinquartz
---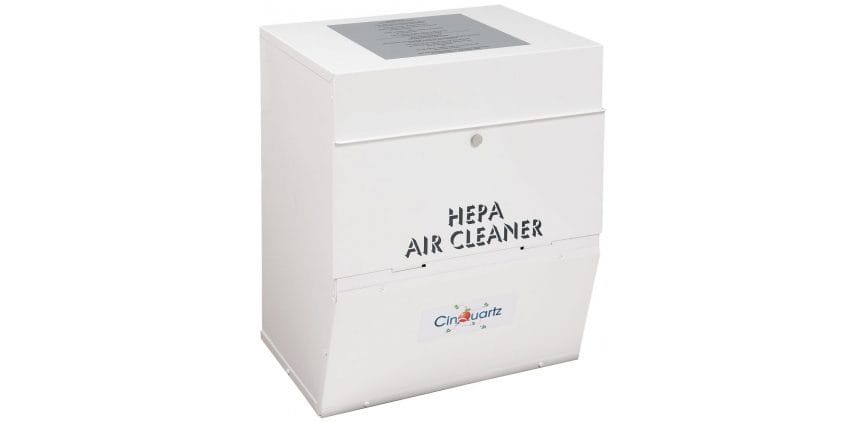 Whole House HEPA Air Cleaner
Description: Designed to remove atmospheric and household dust, insecticide dust, mites, pollen, mold spores, bacteria, viruses, pet dander, tobacco smoke particles and more. This compact unit is ideal for homes that have tight space in their mechanical rooms. Helps to protect and prolong the operating efficiency of the heating and cooling equipment.
Warranty: 5 year limited warranty and 30 days labour.
Specifications:
High Efficient pre-filter removes lint and hair before they enter the HEPA filter
Activated carbon pre-filter removes odors and extend the life of the HEPA filter
99.97% HEPA media filer removes particles 0.3 micron and larger
Powerful European motor delivers 320 CFM of pure air, without adding static pressure to the HVAC system
Duct mounted or collar mounted installation
Contact Us for a quote, to book an appointment, or to ask a question