WHY SHOULD YOU GET YOUR HOT WATER TANK CLEANED?
---
Plain and simple, you hot water heater requires regular maintenance.

All too often homeowners only consider their hot water heater when it is broken down and there is no hot water. Consequently, manufacturers and energy providers across the board recommend annual inspection and servicing. Also, most homeowners don't realize that your hot water heater is the second largest energy consumer in the home.
What is the worst that can happen if you don't maintain your hot water tank replacement? Most appliances in your home just sit quiet and still when they fail. Meanwhile, a hot water tank failure can find you standing in 40 gallons or more of hot water – literally! Worse yet, an improperly maintained tank could cause explosion, fire, or the release of deadly carbon monoxide gas into your home. The latter are certainly rare circumstances, but they underscore the importance of having a certified professional like Four Seasons inspect and service your hot water tank at your next maintenance appointment.
HOW DO WE CLEAN YOUR HOT WATER TANK?
---
Improve efficiency and ensure safety
Get your hot water tank cleaned and serviced at your next maintenance appointment. At your appointment, our servicemen will thoroughly clean and inspect the gas end assembly of your hot water tank. After servicing, you are provided with a detailed service report so you know how your water heater is operating and if any further servicing is required.
Benefits include:
Safer operation! Removing carbon build up from the gas assembly reduces the possibility of gas emissions circulating back into your home.
Lower fuel costs! Clean burners use fuel more efficiently.
Increases the life of the tank!

In fact,

 only a clean and maintained appliance will last its full service life.
HOW DO WE CLEAN YOUR TANKLESS WATER HEATER?
---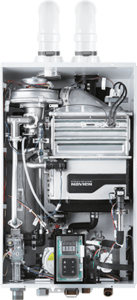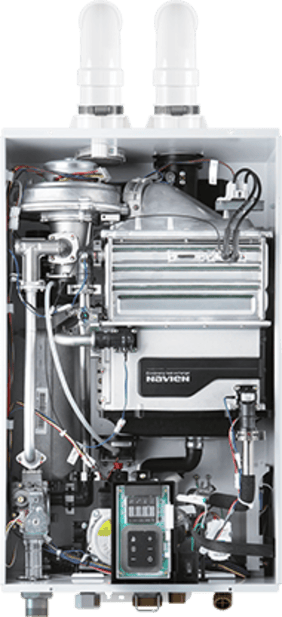 Tankless water heaters or on demand hot water heaters require annual maintenance to avoid breakdowns. Descaling the inside of your unit with a solution that removes hard water and mineral build up allows your unit operate at peak efficiency.  The servicemen checks all intake screens, filters, sensors and drains for proper operation and safety.
Benefits includes:
Prevents Breakdowns! 

High efficiency appliances require regular maintenance to ensure their reliability.

Increases water flow! 

Removing any build up will prevent your water flow from slowing down.

Better efficiency on your daily use! 

Clearing the unit of any build up will allow it to work with ease and increase your energy savings.
Contact Us for a quote, to book an appointment, or to ask a question