What our customers say about us
---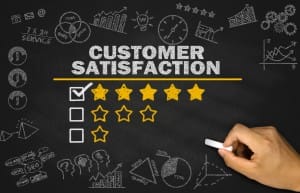 We treat every customer the same, with a high level of respect, service, and professionalism at all times. Your satisfaction is our main goal!
Furnace, Hot Water Tank, and A/C Installation
"Just to let you know that all went well with installation of my new Furnace/AC & Water Tank. I must let you know how great the two young men were during the installation. They were extremely pleasant, professional, hardworking and just a pleasure to be around! They worked tirelessly despite the hot weather and were very informative.
Your other two techs who did the cleaning of the furnace pipes were also very nice and accommodating. All in all, the experience was great and I will certainly recommend your company to anyone in need of new appliances. And your staff in the office are extremely nice and pleasant on the phone. It's been a pleasure."
– Sheryl
Furnace & Duct Cleaning Maintenance
Helen called into the office today and stated that the furnace and duct cleaning our servicemen provided on Friday was great. She said that both servicemen were fabulous, kind, wonderful workers, had amazing manners, careful with her material possessions, took their time and even called her when they were running late. She felt that they went above and beyond and would use our services again as well as recommend us to anybody.
-Helen
Furnace & Air Conditioning Installation
Heather called in to give a compliment on the furnace and air conditioning installation a few days ago. They were awesome! One of our servicemen climbed into the crawl space and never complained, very happy crew always so positive and polite. She said she would have been frustrated, and our crew was cool and calm. She was so impressed with the professionalism and teamwork and that it is rare to have guys with such great attitude doing such work. She is very happy and will be using Four Seasons for everything for her home and rental properties.
-Heather
Service Call to Repair Furnace
Irvin called into the office and was very pleased with the services that our serviceman provided to him today fixing his furnace. He said that he was very organized and did a great job. Irvin said that he received excellent customer service and the serviceman is an asset to our company.
 –Irvin
Regular Maintenance to Furnace & Estimate
Customer called in to compliment our serviceman who provided service on his furnace and an estimate for replacement. Dale let us know that if he was running a company, these are the kinds of employees he would want. He was very impressed with how polite and knowledgeable all of the servicemen were. He also mentioned how nice it was that they took their shoes off and were neat and organized with their work.
– Dale
Furnace & Duct Cleaning
"The crew finished cleaning my furnace and ducts and did a terrific job. Their professionalism and attention to detail was outstanding and was a pleasure to deal with."
– Jeff
Furnace & Duct Cleaning
"I just wanted to thank you guys for providing the absolute best customer service I have ever received, anywhere. I've had really bad experiences with a few other companies that have worked on my house in the past, but you guys absolutely killed it. I would not hesitate to recommend your service to anybody, keep up the great work. Very satisfied. The receptionists were great, although I did not grab their names." 
– Samuel
Long Time Services
"I just want to comment on the kindest most helpful person I've had the pleasure of dealing with so far in this city. Your receptionist helped me with my Honeywell digital panel with cheeriness, thoughtfulness, and kindness. She's an asset to your company. We've dealt with your company for the past 7 years since we've been in Edmonton and we've always had a wonderful service from you in every department."
Also received later in the day after we repaired her furnace.
"I've made one praise on service today about your office, but I would also like to say how pleased I was with the help and service I received from your serviceman who has taken care of my furnace today. I will recommend your company to all those I know. I'm very impressed with your employees."
– Ruth
Emergency Hot Water Tank Installation
Customer called in to compliment our service crew on the emergency hot water tank installation they completed on Monday. Reported that they were both very professional, polite, and kind. Got the job done in great time and were super happy with the services. Heather mentioned that it is hard to find services that will respond so quickly and are so thankful. She said they would use our services for all of her heating needs from now on.
– Dennis & Heather
Service on Air Conditioning & Furnace
Sonia called in this afternoon in regards to the service appointment on both her furnace and air conditioning. She had nothing but great things to say about our serviceman. She said he was awesome, very kind and did a wonderful job.
– Sonia
Contact Us for a quote, to book an appointment, or to ask a question